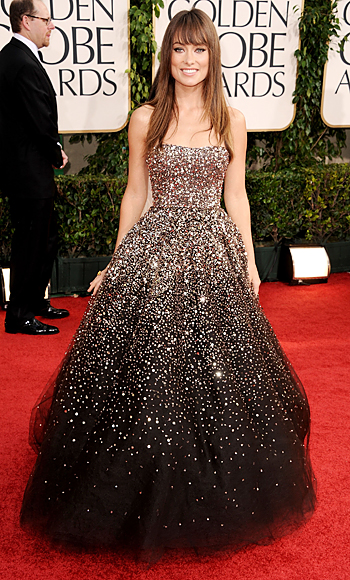 this is olivia wilde in marchesa at the golden globes. omg. i. love. this. gown!!! the fabulous-ness of it is unreal! the chocolate brown dress with the gold ombre-effect sequins was gorgeous. absolutely breath-taking. i do wish that olivia had worn her hair up to better showcase the gown, but aside from that, i am totally obsessed.
check out her ferosh gold spiked
louboutin booties
on a side note, i didn't watch the globes in full, but i did watch ricky gervais' opening monologue. was it over the top? yes. did he cross some lines? yes. was he offensive? eh, i guess. regardless, he was hilarious! i seriously cannot understand all the controversy surrounding him as the host. i mean, the hfpa knew exactly who they were hiring and what could come out of his mouth. i guess at this point, they're just covering themselves because someone complained about getting their feelings hurt... boohoo.